2018.07.11
History Maker's
Project
Pacquiao
Manny Pacquiao's legendary fist is here now.
Product Data
Product name

Standard model

Manufacturer

CASTEM Co., Ltd.

Year of manufacture

2018

Size

Height 320mm

Material

Bronze (Statue), Walnut (Base)

Weight

8kg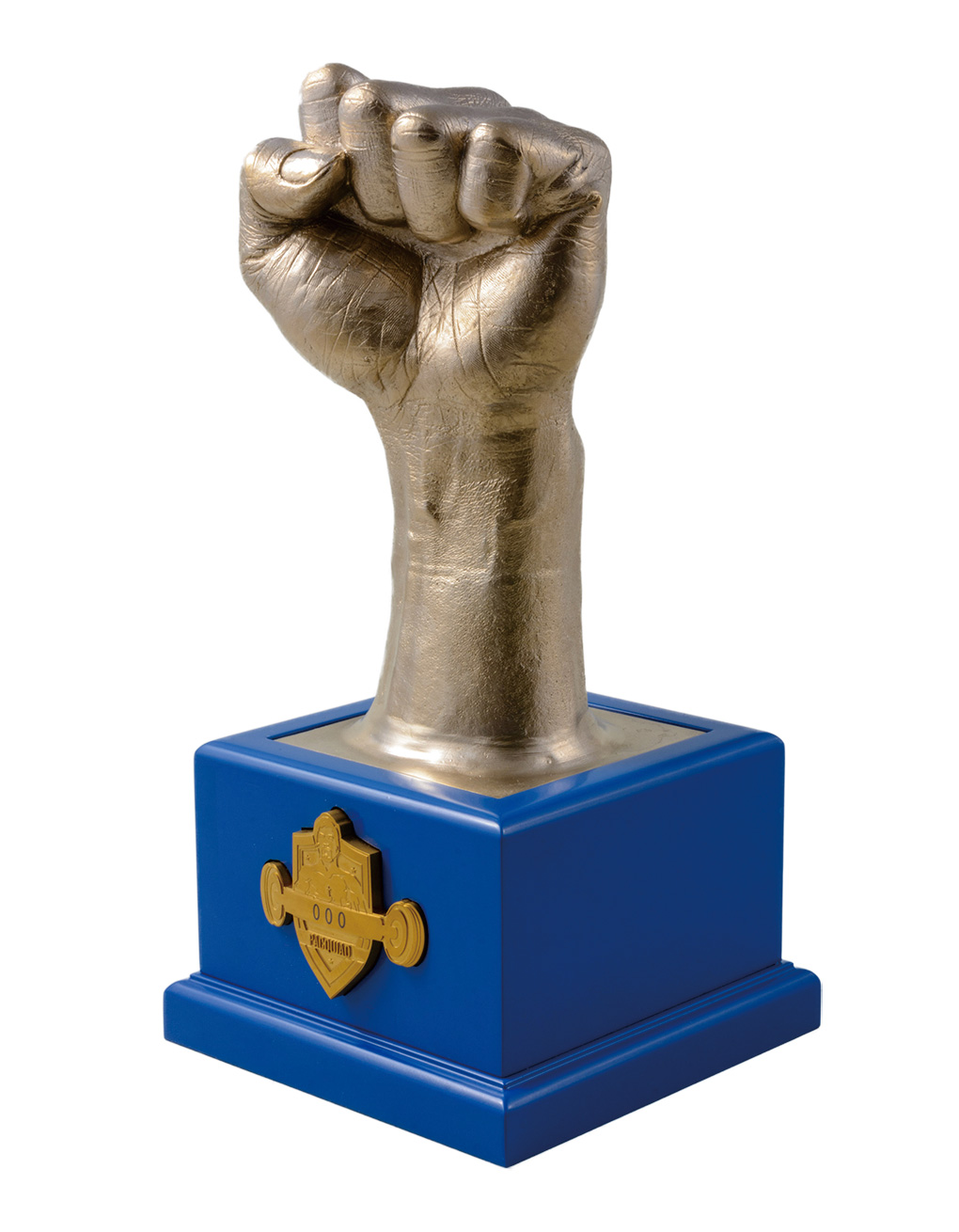 Collection of a hand mold of Mr. Pacquiao who gets 0M by a match
In February 2018, we succeeded in collecting the hand mold of world-famous boxing star Manny Pacquiao, who is the champion of the 8th class and the presidential candidate of the next Philippines, in Tokyo. That was the first collaboration for him with a Japanese company. Mr. Pacquiao appeared in front of us after midnight, and his hand mold was taken in a tense atmosphere.
You can see how the collection of his hand mold took place on the promotion video. This is a very valuable video because it includes his special message to his fans and different facial expressions from his match.
Complete reproduction of the legendary fist with metal to be the eternal fist
We used the collected hand mold as a prototype. The blood vessels, wrinkles, and pores of Mr. Pacquiao's fist were completely reproduced with metal using the precision casting technology of Castem Co., Ltd., which is the parent organization of History Maker.
As long as he is a player, he will eventually retire, but the metal fist of his playing days will keep shining as a fist of his playing days forever.
Mr. Pacquiao got #888 model and accepted the quality
His full name is Emmanuel Dapidran Pacquiao, and it consists of three 8 letters. In other words, 888 means Pacquiao himself. Therefore, we presented him with the serial number 888 model, which is the only one pure gold leaf model in the world. He was surprised about the reproducibility and dignity by comparing with his hand, and we could obtain global distribution rights as Mr. Pacquiao's official goods soon after we presented it to him.
The metal fist statue which we presented is stored in his room with great care.
Mr. Pacquiao won on the next day's match by sleeping with the metal fist statue by his bedside
On July 15, 2018, Mr. Pacquiao's comeback match took place in Malaysia. He prayed for his victory on the day before the match by sleeping with the metal fist statue by his bedside. In the next day's match with Lucas Matthysse (Argentina), Mr. Pacquiao won by knockout for the first time in nine years. Therefore, the metal fist statue became a lucky charm for him.
In addition, the metal fist statues were sold on the competition site, and there was a long line waiting to buy the metal fist statue. Moreover, our company became his first official sponsor of boxing trunks for a Japanese company in this match.
To his fans all over the world
We have received many orders from fans all over the world.
This is a limited and valuable product with a serial number and certificate.
Mr. Pacquiao's eternal fist is available only here.
Please feel free to contact us